Hardware Recommendations
Click here for pricing information
Click here to order online!
---
SpectraDAQ-200
(for use with SpectraPLUS-RT or SpectraPLUS-SC)
Although there are a large selection of sound cards on the market they all lack key features needed for test and measurement applications. Our SpectraDAQ-200 module was custom designed for use with SpectraPLUS-RT and SpectraPLUS-SC. It uses the highest quality data converters for exceptionally low noise and distortion, has fixed gain steps for easy calibration to your transducer sensitivity, IEPE power for accelerometers or microphones, and incorporates standard BNC connectors widely used in test environments.
Model: SpectraDAQ-200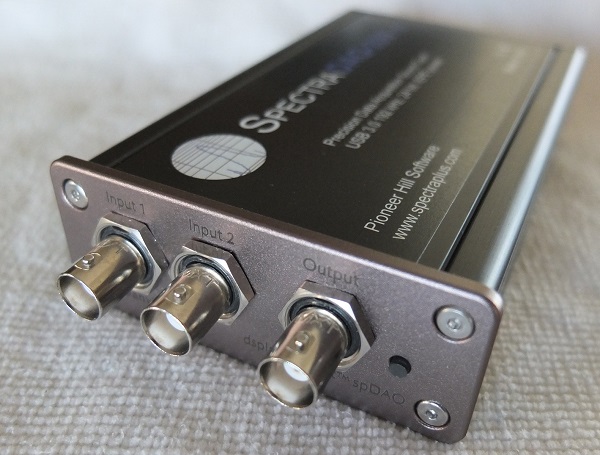 (v2)
Features:
Up to 24bit/192 kHz sampling
Dual channel
IEPE (4ma constant current) power for accelerometers and microphones
Fixed gain steps (+/-10V, 2.5V, 625mV, 156mV)
BNC connectors
Digital I/O lines for process control solutions
Excellent performance (very low noise floor and distortion)
Small rugged portable metal case
USB 3.0 (cable included)
Fully USB Bus powered - no power supply required
For two channel acoustic and vibration signal measurements - this device does it all!
Key Specifications:
THD: < 0.002 %
Frequency Response: 1Hz - 90kHz (-1dB)
Low Frequency Cutoff: 0.5 Hz (-3dB)
Spurious Free Dynamic Range: > 95 dB
Noise Floor: < -110 dBVrms
Click here for a datasheet with detailed specifications

---
Data Translation Modules
(for use with SpectraPLUS-DT)
Data Translation modules are used by SpectraPLUS-DT for data acquisition. There are a wide selection of these modules available; the most popular is the DT 9837A:
Manufacturer: Data Translation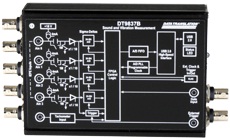 Model: DT-9837A
Specifications:
4 A/D Channels, 52.7 kHz sampling rate (simultaneous), 24 bit resolution
IEPE power (constant current)
Selectable AC/DC coupling
Input Range: 1 V or 10 V
1 D/A channel, 24 bit continuous streaming
Hardware Triggering (TTL)
Tachometer Input Channel
USB interface (bus powered - no external power supply needed)
500 Volt PC-Module isolation
Rugged steel case with BNC connectors
Click here for a summary of the available Data Translation DT-9800 models
---
Microphone - Constant Current Powered (IEPE)
This microphone is powered by a 4ma constant current power source (IEPE/ICP/CCP) such as is provided by the SpectraDAQ-200, Data Translation DT9837A and others.
Manufacturer: iSEMcon


Model: EMM-13D082-CCP
Specifications:
Frequency Response: 10Hz - 20kHz +/-1dB
Sensitivity: 30mV/PA
Built in preamplifier
Prepolarized
Omnidirectional
Dynamic Range: approx. 30...125 dBspl
Temperature: -10 to +55 C (+14 to +131 F)
Type: Prepolarized Condenser, Omni-directional
Capsule Diameter: 1/4"
Built in preamp
Max SPL: 125 dB
IEPE Powered (2-20ma constant current))
BNC connector (cable included)
Includes Calibration File
Stainless Steel housing
High SPL version available (140 dB max SPL)
Meets Class 1 frequency response as per IEC-61672
---
This microphone calibrator is compatible with both of the microphones listed above and others that have a 1/4" diameter capsule.
Manufacturer: iSEMcon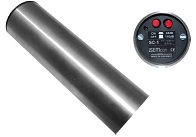 Model: SC-1
Specifications:
Frequency: 1 kHz
Level: 94 and 110 dB
Accuracy:
+/-0.5 dB @ 20 deg C
Calibration Certificate included
Power: 9VDC
1/4" Diameter adapter included


---
Digiducer - Digital Accelerometer
The Digiducer is a precision accelerometer with an internal digital data acquisition circuit. It works directly with SpectraPLUS-RT and SpectraPLUS-SC for making reliable and accurate vibration measurements.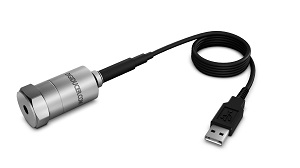 A data acquisition module is not required.
Advantages:
Plugs directly into any USB port
No need for a sound card, special power supplies or additional cabling
Simple calibration - embedded calibration data is read from the device for quick and painless calibration of SpectraPLUS-RT and SpectraPLUS-SC
Uses existing operating system drivers – no download required
Ideal for portable single channel vibration measurements using a Windows based tablet
Manufacturer: Digiducer
Model: 333D01
Flat response up to 8 kHz
24 bit internal ADC
Cable included
Click here for a full list of specifications