Hardware Recommendations
Any of the items below can now be purchased with SpectraPLUS.
Click here for pricing information
Click here to order online!
---
There are a large selection of sound cards on the market. It is not practical for us to test the performance of each and every model but test results for our recommended sound card is shown below:
Manufacturer: Roland
Model: Quad Capture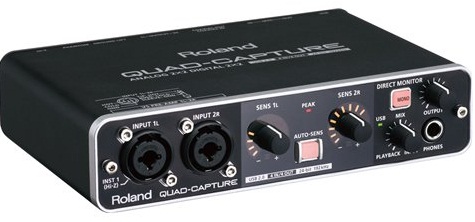 Features:
Up to 24bit/192 kHz stereo input and output
Dual Channel Balanced I/O
48V Phantom Power
High Quality Mic Preamps
Ground Lift Switch
Excellent Performance
Rugged Portable Package
Fully USB Bus powered - no external power supply required
For two channel electrical and acoustic signal measurements this sound card does it all!
Test Results (loop back self test):
THD:
0.003 % (16 bit)

Frequency Response:
12Hz - 55kHz (-1dB)
6Hz - 90kHz (-3dB)
Click here to download a test report (PDF)

---
Manufacturer: Data Translation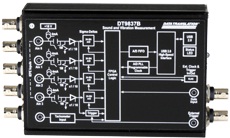 Model: DT-9837A
Specifications:
4 A/D Channels, 52.7 kHz sampling rate (simultaneous), 24 bit resolution
IEPE power (constant current)
Selectable AC/DC coupling
Input Range: 1 V or 10 V
1 D/A channel, 24 bit continuous streaming
Hardware Triggering (TTL)
Tachometer Input Channel
USB interface (bus powered - no external power supply needed)
500 Volt PC-Module isolation
Rugged steel case with BNC connectors
Click here for a summary of the Data Translation DT-9800 models
---
Manufacturer: iSEMcon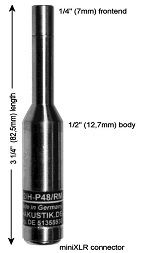 Model: EMM-13D082-P48
Specifications:
Frequency Response: 10Hz - 20kHz +/-1dB
Sensitivity: 30mV/PA
Dynamic Range: approx. 30...125 dBspl
Temperature: -10 to +55 C (+14 to +131 F)
Type: Condenser, Omni-directional
Capsule Diameter: 1/4"
Max SPL: 125 dB
Phantom Powered (48Vdc)
miniXLR to XLR cable included (5m)
Includes Calibration File
Stainless Steel housing
High SPL version available (140 dB max SPL)
---
Manufacturer: iSEMcon


Model: EMM-13D082-CCP
Specifications:
Frequency Response: 10Hz - 20kHz +/-1dB
Sensitivity: 30mV/PA
Dynamic Range: approx. 30...125 dBspl
Temperature: -10 to +55 C (+14 to +131 F)
Type: Prepolarized Condenser, Omni-directional
Capsule Diameter: 1/4"
Built in preamp
Max SPL: 125 dB
IEPE Powered (2-20ma constant current))
BNC connector
Includes Calibration File
Stainless Steel housing
High SPL version available (140 dB max SPL)
---
Manufacturer: iSEMcon
Model: SC-1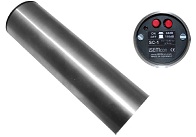 Specifications:
Frequency: 1 kHz
Level: 94 and 110 dB
Accuracy:
+/-0.5 dB @ 20 deg C
Calibration Certificate included
Power: 9VDC
1/4" Diameter adapter included