FFT Spectral Analysis System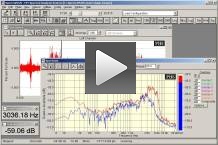 If you have been searching for an extremely powerful yet cost effective solution to your acoustic and vibration test and measurement needs then you have found the right place.
Click here for a short introductory video ->

We offer two solutions depending on your application requirements and budget:
SpectraPLUS-SC works with low cost Windows compatible sound cards. Two channels of signal analysis are supported with up to 200 kHz sampling rates at up to 24 bit precision. A wide collection of analysis tools and plots are available depending on your needs. High quality sound cards are readily available that offer vast performance improvements over the built-in sound cards on most computers.
SpectraPLUS-DT works with the Data Translation line of USB Data Acquisition modules. Up to 16 channels of acquisition and analysis with calibrated input levels, IEPE power, AC or DC coupling, and sampling rates as high as 2.0 MHz! Data Translation offers a complete line of modules from low cost to high speed and high performance. Click here for more information on the Data Translation hardware.
Click here to download a FREE 30 day trial
"I have used Spectrum Analyzers for nearly 35 years and SpectraPLUS for nearly 10 years; it is among the best. Intuitive and easy to use, it is virtually indestructible - a very stable software platform. While more expensive than other packages its reliability and capabilities make it well worth the money. This software is not a toy and stands up to the needs of the sound professional in their day to day measurement requirements." - Dr. Earl R. Geddes, GedLee LLC
Key Features
Real-time FFT analysis of live input
Record, Playback and Post Process WAV files
Displays: Time Series, Spectrum, Spectrogram, 3-D Surface, Phase
Full Featured Dual Channel Signal Generator
High Resolution FFT Analysis up to 1,048,576 pts
Octave Analysis from 1/1 to 1/96 octave
Up to 24 bit precision (hardware dependent)
Digital Filtering, Distortion Analysis, Transfer Functions
Acoustic Tools: RT60, Equivalent Noise Level (Leq)
THD+N versus Frequency
Vibration Testing and Analysis
Impact Testing
Automation Tools, Data Logging
Order Analysis
MINIMUM SYSTEM REQUIREMENTS
XP, Vista, Win 7, Win 8/8.1 (both 32 and 64 bit versions supported)
Pentium or higher
1GB RAM, 40MB hard disk space
256 color or greater VGA monitor (1024 x 768 or greater resolution)
Mouse or other pointing device